CABINS/LABS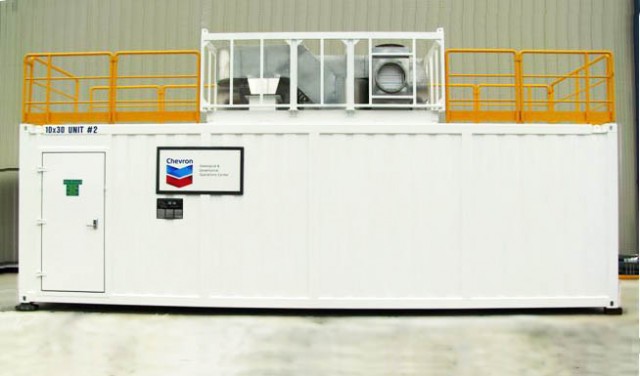 Custom Engineering Labs, Kit Boxes, and Engineering Structures
Built to either be rented, sold or lease purchased, ABS offers harsh environment portable laboratories that can meet any rating requirement, including:
ABS, USCG, DNV, NORSOK ratings
extreme temperatures and harsh environments
custom paint colors and logo application for brand consistency
unique sizes and uses
Each building can be customized to a client's needs, both in size and interior configuration, and are built to withstand harsh environments while providing safety to the occupants. Specific requests are easily accommodated due to complete in-house construction.
We offer several models and sizes for engineering cabins, ranging from 8'W x 8'L thru 8' x 40.'
Although each model has standard features, some models such as the Harsh Environment Structure come with sink systems complete with water discharge hose and water inlet hose. Portable fire and gas detection is standard with any rated unit. An emergency lighting system is available upon request and any unit can be wired for telephone, email or intercom capability. All units come purge equipped and ready to go either on land, barge, or offshore drilling rig.
Other features on the Harsh Environment Labs include:
Magnehalic purge systems with automatic power shutdown upon pressure loss with audible and visual alarms

Visual purge indication of safe or fail status

Air conditioning systems available for class 1, division 1 and 2

Offshore approved exane power cable

Stepdown voltage transformers for 480/240 volts Unit wiring for European standards easily done

Safety cages mounted over air conditioning units - window safety covers also available

Forklift loading pockets and certified lifting points; certified slings are standard with each cabin

Ventilation hoods: fan system for synthetic mud testing can be provided upon client request

Communication systems available

Skid packages for on/off loading are standard
These multi-purpose, portable buildings can be be utilized either offshore or as a land unit. These units can serve as a:
Mud Engineering Test Lab

Directional Drilling Work Area

Measurement While Drilling Unit

Portable Offices

Pipelay barge data unit

Portable Company Representatives Unit
Or let us design and construct buildings for your special use, like
Cooling Rooms or Kit Boxes.