SERVICES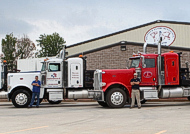 Hassle-free, Turnkey Solutions
ABS makes outsourcing your building project easy. With a simple phone call or email, our professional staff will handle all logistics and set-up associated with rig-site accommodations.
Along with our sister company, Oilfield Instrumentation USA, we maintain a fleet of dedicated 18-wheel trucks to ensure timeliness and diligence in delivery and retrieval.
Our certified technicians can provide all rig-up services so your employees can just walk in and turn on the lights. And when you alert us that the job is complete, our technicians will handle all the rig-down tasks, and one of our new 18-wheel trucks will arrive to retrieve the building. We'll handle the maintenance, system checks and refurbishment as necessary, so your employees can focus on revenue-generating activities, like drilling.
If you should ever need assistance during the job, we'll have a technician in route to your location within one hour of your call. Strategically positioned service centers in key locations across America, and a continually expanding footprint allow us to serve you with maximum efficiency.