SERVICES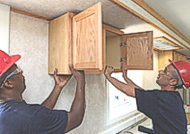 Custom Designed to Your Specifications
A benefit of having in-house manufacturing capabilities is that we can accommodate almost any request for building customization. Our engineers will work with you to design a quality building that meets all of your needs and rating requirements, including:
ABS, USCG, DNV, NORSOK ratings

Extreme temperatures and harsh environments

Custom paint colors and logo application for brand consistency

Unique sizes and uses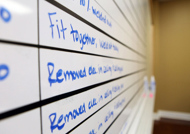 Speed to Completion
Whether a project involves custom design and construction of a new building, or rental of an existing unit, ABS customers are pleased with our rapid response.
Rental job response: Within hours of notification, the unit leaves any primary service point.
Sale job timeline: Currently, engineering cabins can be delivered approx. 4–8 weeks after acceptance of p.o. and customer signature on final print drawings. We make it easy for customers to track daily progress of a manufacturing order by logging in to our web site's Project Manager page, and reviewing actual photos of the job in progress.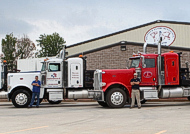 Hassle-free Delivery, Set-up and Maintenance
ABS offers complete outsourcing, from delivery and rig-site setup to retrieval and maintenance, so our customers can focus on the activities that generate their revenue. To serve our customers most efficiently, we have service centers in key locations across America: Houston and Victoria, Texas; Conway, Arkansas; Williston, North Dakota; Lafayette, Broussard, Shreveport and Ferriday (manufacturing facility), Louisiana; a new location in Bakersfield, California; and Weatherford, Oklahoma planned for mid-2011.
On-time delivery, post-job pickup and the elimination of any transportation issues are the backbone of our outsourcing concept. ABS and its sister company, Oilfield Instrumentation, offer a fleet of dedicated 18-wheel trucks to ensure logistical timeliness and diligence.