FEATURED PROJECTS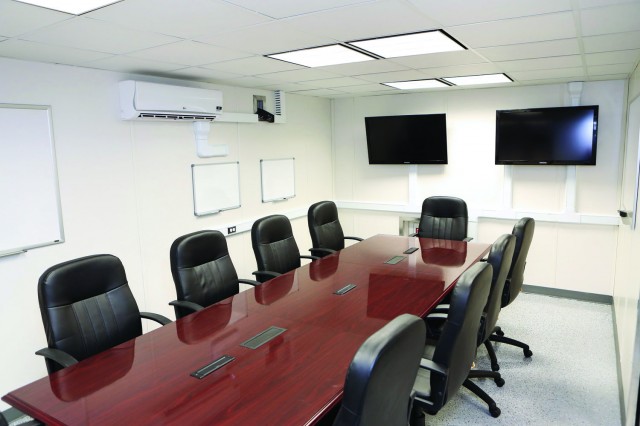 SALE PROJECT: ABS Offshore "Super Center" delivers maximum efficiency
ABS constructed a highly customized, offshore certified "super center" to be used on the Atwood Deepwater Condor, which included MWD space, a conference room, and mud logging area, all for use by different service providers.
The concept of combining multiple service units into one offshore building is gaining favor among offshore operators who recognize the financial and logistical benefits of such practices. Notably, only one building must be transported to the rig site, and a single offloading is required to transfer the building to the rig, which all translates to minimal rig downtime, significantly reduced costs, and fewer logistical hassles. The super-center concept also promises to further set OI and ABS apart from competitors. In-house manufacturing and custom design allow us to construct buildings for any combination of services, any size or layout, and to fulfill any certification requirements, including DNV, ABS and Norsok. Our close proximity to the Mississippi River makes delivery anywhere possible and convenient.
---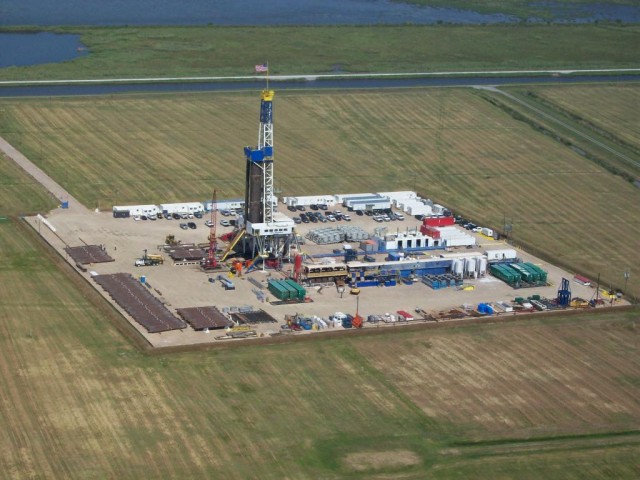 RENTAL PROJECT: Land drilling site accommodations package
Chevron trusted ABS to provide all well site accommodations for its largest land drilling project in America. Custom buildings ABS manufactured for Chevron include Company Rep, Safety Building, Command Center, Livinq Quarters and 8-man stackable sleepers. ABS trucks delivered the skid-mounted steel buildings and our technicians provided complete rig-site set up for the project.
In addition, ABS provided water and septic services for the site, making it a complete, turnkey and hassle-free project for the client.
---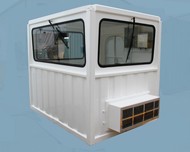 SALE PROJECT: EMAS Carousel Control Cabin
This specialized control cabin, measuring 6 x 8 x 7-feet tall, was engineered to fit in a limited space on an offshore barge. The design resulted from a collaborative effort between our engineers and Deep Down, Inc. This first-of-its-kind building featured windshield wipers on oversized windows, air conditioning and electrical wiring ready to receive the client's equipment. Our team streamlined the engineering and manufacturing process to deliver this finished product two weeks earlier than client expectations.
---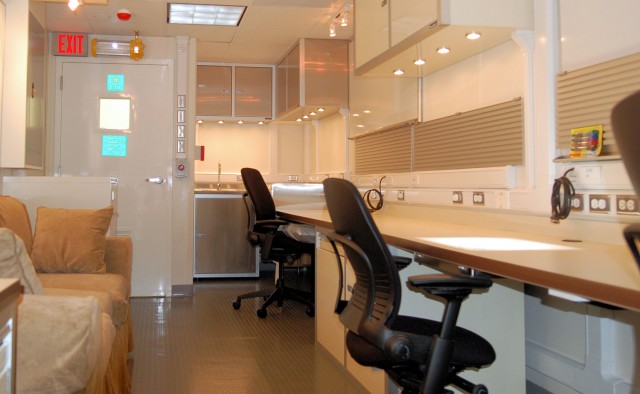 SALE PROJECT: Chevron Drillship Geology/Geophysical Conference Room
Chevron asked ABS to design a 10'x30' unit suited for the specific needs of geologists on board drilling ships worldwide. Three are currently in use on the Stena Carron in the North Sea, the Discoverer Clear Leader and Discover Inspiration in the Gulf of Mexico.
These buildings met the requirements for many certifications and ratings including: DNV 2.7-1 for lifting; A-60 fire rating for wall insulation and door; Pro-Marine USCG/ABS approved walls and floors materials; Cerma Gard fire-rated ceiling tiles; electrical approved for DNV 2.7-2 and Class 1 Division IV GR CVD; and CSA verified HVAC for Class 1 Division 1 Zone Ex ratings.
---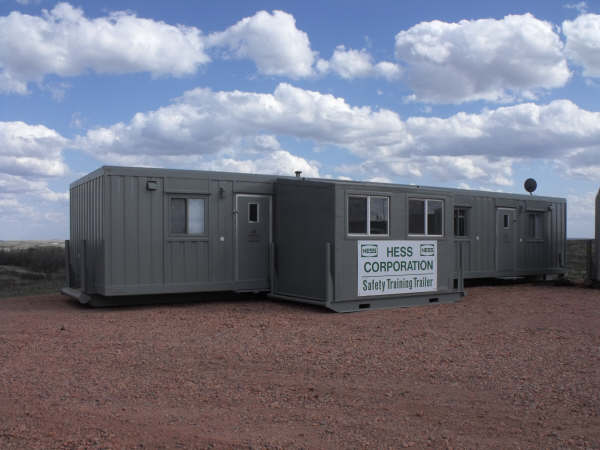 RENTAL PROJECT: Bakken Wellsite Accommodations
Hess needed 150 buildings–constructed to withstand temperatures down to 40-below-zero–delivered to its rig site.
Because our inventory remains stocked, there were no delays waiting for materials. Immediately upon client approval and signing of the final building plan, we began construction in our modern fabrication facility in Louisiana. Having 40,000 square feet of manufacturing along with climate-controlled painting and sandblasting areas allowed us to work around the clock, regardless of inclement weather, to get the job done.
Our dedicated fleet of trucks allowed us to deliver each structure as soon as it was complete, relieving the client of any logistical hassles.
---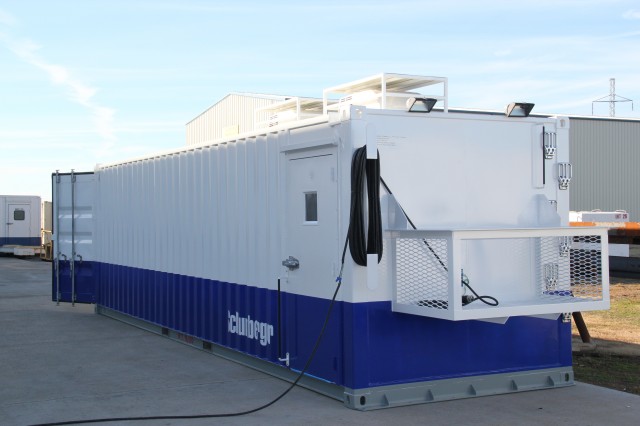 SALE PROJECT: Cooling & Storage Rooms
These specially designed 8'x30' steel cabins combine R-25 rolled fiberglass insulation, thermal ceramic roof coatings and two 15,000 btu roof-mounted HVAC units to keep crews cool in the high heat conditions of the oil & gas producing areas of the southern United States.
Approximately half the cabin functions as workshop and storage areas, while the other half provides a table and chairs for computer work and meeting collaborations. The walls and ceilings are made of low maintenance fiberglass-reinforced panels with commercial raised dot flooring. The custom-built table and seating area offers laptop-friendly electrical outlets. Bench seats and custom shelving provide extra storage space. The workshop features double cargo metal doors for easy ingress and egress of large equipment into the air conditioned work area. Its steel workbench and steel shelving are lined with rhino materials for extra protection. External mounts fit the appropriate generator units. Electrical outlets are conveniently located throughout both work spaces in the cabin. New units will be outfitted with removable handrails for all doors if the unit is mounted to a trailer when in use. Schlumberger took advantage of our paint customization option for corporate branding as well.
---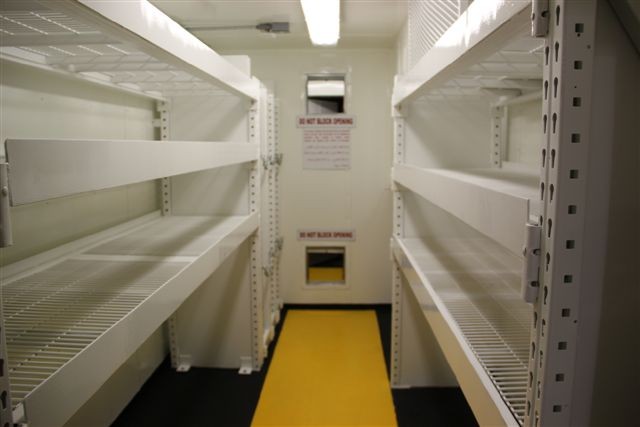 SALE PROJECT: Lithium Battery Box
Designed to Schlumberger specifications, these 8'x20' steel boxes are insulated to protect batteries from high heat conditions, to extend their life or safely store used batteries. Interior construction materials are selected to resist combustion, including all-steel storage shelving, and the unit is equipped with fire and smoke panel and devices. Custom-built, over-pressure screen doors minimize impact of occurrence at unit. Thermal ceramic roof coatings and 18,000 btu HVAC units maintain temperatures to ISO shipping regulations and unit is protected for shipping, with steel cover. Thermostat, HVAC controls, and humidity indicators are mounted outside to minimize needs for personnel to enter unit. All fire, gas, electrical panels and disconnects are mounted outside in recessed housings. Battery box has audible and visual strobe lights to warn personnel of an indication at the unit for appropriate action to be taken. Units are designed for use throughout North America and can be shipped to Schlumberger locations throughout the middle-east and the rest of the world.