PRODUCTS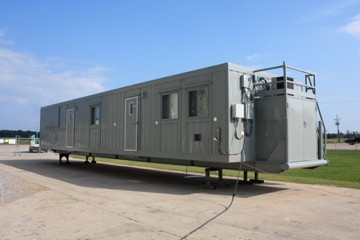 Live and Work Comfortably in ABS Buildings
Advanced Building Services (ABS) supplies high quality, skid mounted accommodation and office buildings for the oil and gas and other industries.
Unlike other mobile housing providers, ABS utilizes 12-gauge corrugated welded steel for the outer shell, which consists of 2' x 6' stud walls finished with a 3-layer insulation process (3" spray foam, 6" batting, and 1/2" plywood).
Floors and ceilings also contain spray foam insulation. The results are a more costly, but more durable ABS building, better insulated not only for cold weather but warm weather as well. These buildings were designed and manufactured for subzero temperatures. They are also much quieter due to a three-layer insulation process.
ABS buildings boast a wind rating of 160 mph which makes them much safer to live and work in. Because of the durable, robust construction* of our buildings they can withstand moving hazards much better than other buildings on the market (*steel roof vs. rubber, and 12-gauge corrugated, welded steel walls vs. tin siding).
Our sleepers, company man buildings, command centers, living quarters, safety buildings, engineering modules and other structures are best-in-class, developed with our customers' needs in mind. We know that our products help contribute to productivity by letting specialists in the field focus on their tasks, without the discomfort of poorly constructed or rundown temporary housing and labs.
With inhouse manufacturing, ABS can customize buildings to meet just about any layout or certification requirement, including DNV, ABS, Norsok, and A-60 fire rating.